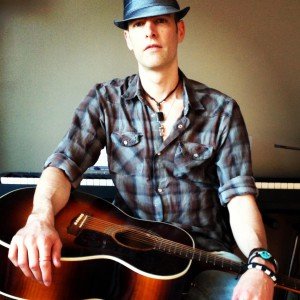 In our new Who's Who interview series we will introduce you to the artists behind our music catalog. First off, Briand Adolphe Melanson aka "Bamtone" will talk to us about how he got into songwriting and where he's headed with his music after having some placements in TV & online commercials such as Enbridge Energy, as well as TV Shows like The Flash and Shameless.
Briand grew up in a very musical home in South West Nova Scotia, Canada, where you just had to "grab an instrument, get in the circle and start playing." Knowing early on that music was his passion, he quickly decided to pursue it as a career. First stop: The Musicians Institute (MI) in Hollywood where he studied percussion. Upon graduating from MI, he formed the French Acadian band Grand Dérangement with which he toured Canada, US, France, Italy, Germany, Belgium, Romania and China for over a decade.
After many years on the road, Bamtone wanted to try something new. So, he moved to Toronto to try his hand at songwriting: "After being on tour for so many years I needed a change and songwriting was so new to me." Back then he recalls "I knew I needed a change of scenery and Toronto offered just that! There's a great buzz here!" I promised myself: 'I'm gonna really give it a go until I accomplish what I want which is getting my music in a big movie, and of course, winning a Grammy! So with my artist name – Bamtone I'm on my way!! Producing music for other artists, film, TV and Promotion."
"I still tour and I still love it. I'm a member of a children's entertainment group called 'The Little Buckaroos' and also play regularly in a cover band called 'Beer For Iguana'. I find I have a good balance between touring and songwriting now." I told myself: "I'm going to achieve everything I want to achieve or I'm gonna die trying, simple as that!"
Here is some of his songs:
For the past five years, he has been writing minimum 160 songs per year and is part of the 'Eon Sounds' roster in the Indie Folk style. Talking about his music "Most of my songs are positive and happy but I do dabble in more introspect and more dark too. When I sit down to write I never know where I'm gonna take an idea, title or riff till it takes a life of it's own. Then I just go with it! Most of my tracks are acoustic; with acoustic guitars, banjo, piano, bass. I really like vocals too; group vocals and sing along and anthemic kind of songs. I'm an energetic guy when it comes to music, it's a lot of positivity because right now I am definitely living my dream."
That's why his songs are mainly about perseverance, not giving up, keeping it real and being happy. "If you're doing what you love, you're happy and you don't need much. You don't need millions of dollars right away… just later" he added jokingly. "Bottom line is, the only thing that can stop you from being you is you. There are no limitations when you think about it because everything comes out of an idea. Anything is possible. Really."
"I think I got something to say! Songwriting and connecting with people is important to me. It's a personal thing. I'm working on my craft and I know that every songwriter is gonna write a different song a different way if you give him [the same starting point]."
After his first prime time placements in The Flash and Shameless he says that "for me, the bigger, the better. I'm definitely aiming to have my songs in the biggest shows. It's a slow climb but I feel I've accomplished quite a bit already with my music and I'm getting to co-write with some very talented musicians all over the world. I'm totally enjoying this journey! I mean really, how couldn't I?!"
And speaking about tours he also promised in the end to be touring with Bamtone once the need really is there: "The reason I'm not touring as much now is because I'm more focussed on delivering great, well written, songs. But if there were a movie and it would be a blockbuster hit and all of a sudden there is the demand for a tour – Hell yeah!"
We are so glad to have Briand Adolphe Melanson aka "Bamtone" on board and we hope you get to know him a bit better.