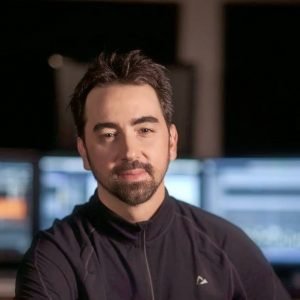 François Jolin – Film Composer
François Jolin is an award-winning Film composer from Montreal, Canada. He is the creative lead and audio director at Eon Sounds. Throughout the past 15 years he has provided original scores and sound design to a variety of feature films, TV series, commercials, trailers, and video games. Some of his recent and upcoming projects include The Oslo Diaries, Fall of Gods, Dead Man Rising, Hard Right as well as the video games Limit Theory and Alice VR.
He and his team at Eon Sounds has provided scores and sound design to local and international clients such as Warner Bros, Le Cirque du Soleil, Square Enix, Funcom, Digital Dimension, Carbon Studio, Intermission Film, Mood, Astral Media, Bell Media, ArtTV, Traffik Films, TV5, ONF, Télé-Québec, Radio-Canada. CBC, Procedural Reality, Shockwave.com, and many more.
François is known for his evocative music, always juggling with various musical styles and working methods. Either through traditional writing and recording or sound design and electronic textures.
Little Alice Fell down the Hole